The Sentry is Port Elizabeth's premier destination wedding venue, surrounded by the picturesque natural beauty of Hopewell Estate in the heart of the Eastern Cape Bushveld.  A world-class venue, located 30 minutes from Port Elizabeth's beautiful golden beaches, that can be tailored and transformed to suite every bride's vision of her special day.
Whether it be an intimate rustic ceremony or an elaborately elegant occasion, The Sentry offers endless opportunities and packages for wedding ceremonies, reception venues, catering and accommodation - reflecting all styles and tastes.
Outdoor Wedding Ceremonies
Our outdoor tented chapel, set amidst a lush valley overlooking a gently-flowing stream and encircled by spectacular rock-faced cliffs, is a uniquely romantic atmosphere in which to exchange vows. Whilst the verdant terraced lawns below our Vineyard Clubhouse provide a more relaxed and subtle setting for saying "I do."
Bathed in soft warm light and framed by fields of fragrantly flowering fynbos, a wedding ceremony at The Sentry is an enchanting experience and timeless memory that is cherished by couples and guests forever.
At the award-winning Vineyard Clubhouse and grass terrace, guests can delight in exquisitely prepared canapés and refreshments. The newly-weds and photographer can, in turn, sojourn to capture their joy in the many scenic locations within Hopewell Estate. From stunning mountain vistas to vivid golden grasslands, backdrops for wedding photos couldn't be more idyllic.
World-Class Wedding Reception Venue
Adjacent to the Vineyard Clubhouse lies The Sentry Glass Banquet Reception Venue, renowned as the ultimate in stylish wedding reception venues in Port Elizabeth. A beautiful canvas where the loving couple and up to 160 of their guests can celebrate their special day in a welcoming, relaxed and friendly atmosphere.
Breathtakingly ethereal and with an almost magical allure, the venue's architecturally inspired wrap-around, high-rise glass doors disappear to illuminate spectacular panoramic views of the Eastern Cape's rich and unique bushveld. The Sentry Glass Banquet Reception Venue's versatile design and unique interior layout makes it ideal for both small, intimate gatherings and larger, more elaborate celebrations.
Our visionary Executive Chef can design and prepare an indulgent culinary experience for every pleasure and preference. Whilst our Expert Function and Events Co-ordinator will tend to every detail and ensure guests want for nothing. Leaving the happy couple and their friends and family to savour every moment.
Click below to view Laycan and Christopher Strydom's recent wedding captured by videographer Jean Gerber: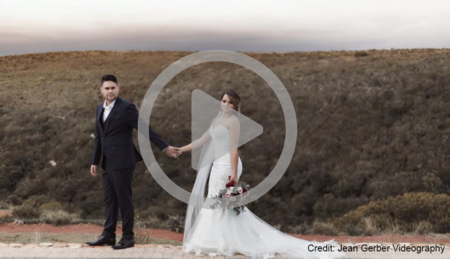 Luxury Wedding Accommodation
And when your dancing feet can dance no more, The Sentry and Hopewell Estate's luxuriant on-site Villa (as featured on Top Billing) is the perfect wedding night sanctuary. Replete with private deck and complimentary champagne, couples can toast their new lives together as they absorb serene vistas or take pleasure in watching indigenous wildlife from the Villa's opulent comfort.
Bridal parties also enjoy using Hopewell Villa's lavish designer interior to get ready for their big day as do wedding guests. The Hopewell Villa accommodates up to 10 guests in its four double bedrooms, 3 en-suite, with an additional 2 single beds available in one of the bedrooms.
Adventurous groom parties and wedding guests can also be accommodated in the Hopewell Glamping Village, which consists of an idyllic cabin and four luxury safari-style tents. The splendidly appointed Luxury Cabin, and each spacious and private Glamping Tent, can accommodate up two guests and include all the creature comforts, from en-suite bathrooms and indoor showers to percale linen, plush fleece blankets and fresh towels.
Airport transfers for wedding guests to and from Port Elizabeth Airport can also be organized upon request.
Contact Us
For more information or to organize a tour of the The Sentry, or a meeting with our Expert Functions and Events Co-ordinator please contact events@hopewellconservation.co.za or phone +27(0)41 450 0381. 
"We would like to thank you for making Shirley's Bridal Shower so very special. A BIG thank you to Tracy, Pieter, Chef and all the staff at The Sentry for all your help. Everything was perfect. The venue is beautiful and so peaceful."- Lynda Rademeyer
"On behalf of our family & friends, thank you very much for the successful hosting of our wedding and your (sic) very professional and friendly service throughout the day. We will most definitely recommend your establishment to all that asks" - Ayub Choonara